Telephony Solutions for Your Business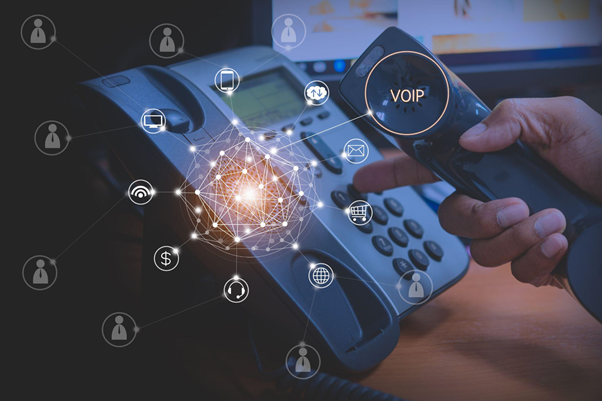 Telephone systems are a critical piece of the puzzle in any business. It is important to find an affordable but robust solution for your company, and we can help you do just that. We offer hosted telephony solutions and pricing that will work for your needs and budget. Read on to find out more about our telephony services and contact us today to learn more!
What is Hosted Telephony?
Telephony systems refer to infrastructure that enables two or more individuals to communicate over long distances. Traditionally, this referred to telephones and telephone networks but, as technology has evolved, telephony has become much more varied. 
Now, telephony solutions can refer to a wide spectrum of technology and services, including voice calls, videos calls, and text-based chats. Since the 1990s, internet telephony enabled digital communications, including voice calls, to be transmitted over a network. Eventually, this form of internet telephony developed into what we now know as voice-over-internet-protocol or VoIP.
By switching to a VoIP system, businesses can access a range of benefits but setting up and maintaining your system is critical for your operations, which is where working with an experienced provider comes in. By working with hosted telephony experts, you can essentially 'outsource' the maintenance and running of your VoIP system to an external company, like DRC, and ensure that the online exchange of data is secure, instant, and uninterrupted. 
What Are the Benefits of Hosted Telephony?
VoIP systems offer an array of features and are capable of so much more than traditional phone systems. To optimise performance and make the most of the available features, however, it's important to implement the right VoIP system for your needs, select the most suitable devices for users, obtain the correct licences, and maintain the system. As you can see, expertise and industry knowledge are required to ensure you get the best performance at the lowest cost. 
By using hosted telephony UK providers, you can access the expert knowledge and services required to streamline and safeguard your company's communications. Whether you're transitioning from a traditional telephone infrastructure or you're looking for a unified communications specialist, DRC will provide the advice and support you need. To learn more, take a look at some of the hosted telephony benefits that are available with DRC:
1. Call Management
With DRC, you can deploy a range of call handling features to streamline communications with in-house partners and external clients and customers. You may wish to use an auto attendant to ensure optimal response times, call queuing, and directory services, for example. Alternatively, compliant call recording makes it easy to monitor communications and screen sharing allows users to collaborate effectively. 
2. Integration Options
A unified communications system integrates seamlessly with your current and future systems. At DRC, we understand the importance of unifying your business solutions, which is why we offer a range of integration options. From CRM systems to Microsoft Teams integrations, we'll provide end-to-end integration services to ensure your communications systems provide the functionality you need.
3. Intuitive Interface
If your business receives a high volume of incoming communication, it's vital to be able to manage and monitor these requests effectively. Our intuitive user interface or 'wallboards' display critical live data, so you can assess performance at a glance and deeply extra resources where they're most needed. In addition to this, you can access wallboards from any connected, web-enabled device, so you can manage your communications remotely too. 
4. Multiple UK Data Centres
It's essential that your VoIP system is utterly reliable, and, with DRC's hosted telephony solutions, you'll have peace of mind that your communications system won't let you down. As well as a primary data centre in London, we use multiple data centres all over the UK to safeguard our VoIP platform and provide you with uninterrupted service and performance. This, in addition to running load balanced controllers and hosts across advanced Linux Based Dell server clusters to provide additional backup, ensures exceptionally high levels of reliability. 
5. Varied Device Options
Every business has unique needs and, in some instances, specific departments, teams or individuals may require a unique device. When you opt for hosted telephony from DRC, you can select traditional handsets, PC soft client and/or mobile soft client. Whether you're operating from a central location, trialling flexible working, or relying on distributed teams, the option to use a wide range of devices enables businesses to implement the hardware and solutions that are most effective for their operations. 
6. Flexible Solutions, Low Cost
Communication might be a critical aspect of your business, but this doesn't mean it has to be expensive. From one or two handsets to an entire call centre, we provide hosted telephony solutions that match your needs. What's more – our client-centric approach enables us to implement an optimum telephony setup for every business, which keeps your costs down and allows you to access the services you need, when you need them. 
7. Remote Administration
When you want to make changes to your VoIP system, you can do so in seconds via our remote administrative portal. You may want to modify your existing call routing, add an extension, or incorporate a new feature into your system, for example, and our easy-to-use, web-based administration portal provides all the options you need. If you'd prefer us to manage the administration of your system for you, just let us know and we'll be happy to switch you to our fully-managed service. 
Future-proof Your Business with Hosted Telephony Solutions
The public switched telephone network, PTSN, will be 'switched off' in 2025, which means that old, analogue telephone systems will no longer be operational. By transitioning to a VoIP system now and selecting a hosted telephony UK provider, you can avoid potential disruption and start benefiting from internet telephony straight away. 
With reduced costs, enhanced performance and extra functionality, a hosted telephony system does more than simply facilitate communication; it elevates your company's performance. 
To find out more about our hosted telephony solutions, contact DRC now on 01256 895895 or email us at [email protected]