DRC is shortlisted for Engineering and Support Team of the Year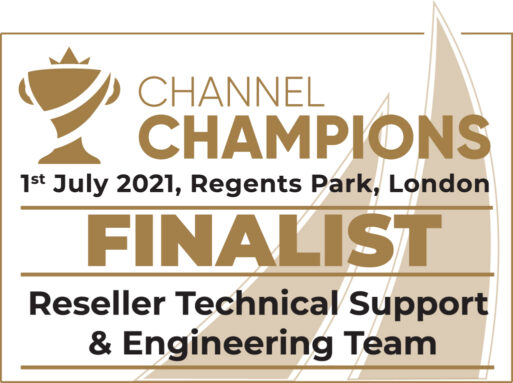 We are thrilled to be shortlisted for this year's Comms Dealer Channel Champions Award for the best Reseller and Technical Support team. With over 100 entries to the awards, it is a complete honour to be on the shortlist and we are in great company with our fellow shortlisted providers. As a business we don't always do lots to shout about how great we are, as we are busy quietly getting on with things, but we wanted to share with you why the judges thought enough of us to put us in the shortlist.

As with most other communications providers, a complete national lockdown drove a hive of activity in terms of needing to support our customers with their own homeworking strategy. This was either accelerating a pre-defined roadmap, or in the case of several of our customers, working with them at pace to help them define their goals, implement them and support them remotely with deployment and training. A notable example of this was one of our logistics companies, whose efforts were vital to the medical supply chain during Covid.

Their existing solution comprised of multiple on-premise PBX systems and the requirement was to move all 116 users to a hosted solution, enabling them to work from home with complete visibility of all activity, and most importantly, no disruption to service levels, which was vital for the distribution of essential medical supplies.

There were a mixture of standard users and call centre users, who were all struggling with a high level of call volumes and were missing calls within their legacy PBX system. The team at DRC worked quickly and efficiently to scope the requirements for all users and sites and create a detailed plan of all users and call routing, as well as a full go-live plan to avoid any disruption to the service and maximise on the functionality that meant users were able to swiftly move to a home-working solution, being able to collaborate with each other and their prospects and customers.

The DRC magic really came alive during deployment, offering full training prior to go-live, even going so far as to call each individual user on behalf of the logistics company, to ensure their setup was perfect, that they were able to log in and undertake test calls. This meant that each end user, irrespective of job function was completely comfortable with the new system prior to go-live, trouble shooting any local issues as they arose in a safe environment. We allocated a direct support line to our end customer, which ensured ant incoming support calls avoided any IVRs and were directed seamlessly to the engineers who had worked to design the system, offering full end-to-end knowledge of the solution, responding to all queries first time, every time, with a 247 service.

DRC prides itself on service levels at the best of times, but during a pandemic and lockdown that nobody could have predicted, the team worked tirelessly to support its own customers whilst also working hard to modify its own working practices to ensure the safety of the DRC team. Moving from system design and implementation that would have traditionally been done on site, to delivering a complex solution entirely remotely, with little or no customer IT resource in this instance, due to their own priorities, we really proved how we aim to act as a true branch of our customers' businesses, always delivering a solution that is best for the customer, not what is best for DRC. We are proud to have helped a company whose activities were essential in a pandemic to continue to deliver vital services without missing a beat.

If you look objectively at your own communications and the service you receive, and the levels fall short of this article, we would love to have a chat to hear your story and offer some completely no-obligation advice. We don't have an extensive sales team to try to pressure you, just a team of passionate and knowledgeable individuals who care about doing the best job possible for our customers, no matter what the circumstance. Give us a call on 01256 895895, or drop us a line at [email protected] – we're here for you!