What Is VoIP and How Does It Work?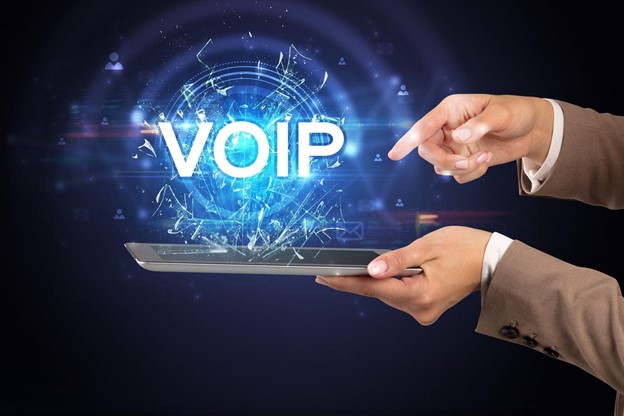 Forget about handsets. With today's internet-connected computers, headsets, and voice over IP (VoIP) technology (also referred to as IP telephony, hosted telephony, internet telephony or broadband phone services), you can easily make and receive phone calls anywhere.
The technology behind VoIP allows you to make and answer calls directly from any data-driven device, such as a computer or VoIP phone – basically, it's a phone service through the Internet.
What Are VoIP Solutions?
By using packet-switched protocols, VoIP technology enables traditional telephony to be used over a computer network. Similar to an electronic envelope, packet-switched VoIP transfers voice signals over packets. Any VoIP-compatible network, such as a local area network (LAN), can transfer VoIP packets.
The use of packets in VoIP allows for more information to be carried over the Internet to meet your communication needs. A VoIP provider can provide you with much more advanced applications than traditional voice services, which may help your staff become more proactive and efficient.
In addition, some businesses have evolved from basic VoIP offerings to a wider unified communications service (also known as UC) that combines all forms of communication – phone calls, voice mail, email, social media, web conferences and more. Even more impressively, they can be distributed via any method and to any device, such as mobile phones.
As well as enhanced benefits, there is usually a cost saving by switching to VoIP, as VoIP services generally provide all inclusive bundles for UK landline & mobile calls alongside bundles for international and long-distance calls. Most businesses love the comfort of knowing what's coming up, with no nasty surprise bills.
You also don't need your employees to be equipped with IP phones – a laptop & a headset can handle the same volumes of calls as traditional desk phones – but VoIP telephones are simple to install, and even if you have an existing telecommunications infrastructure, regardless of whether you have analogue switches, you can usually upgrade your existing analogue hardware to allow VoIP calls to take place.
What Are the Key Benefits of VoIP?
With VoIP, you can save money
The installation of traditional phone systems can be expensive, and many small businesses face challenges raising the upfront CAPEX/capital they need. VOiP often takes away, or significantly reduces, that barrier.
Generally speaking, changing to VoIP saves 70% in expenses, rounding off the savings. Compared to traditional phone systems, VoIP business phones are much less expensive, rarely have upfront fees and add much more value, flexibility and efficient ways of working.
Reach more customers
For small businesses, calling via VoIP is an inexpensive way to reach a larger pool of local, national and international customers. You can even allocate 'local' numbers that are displayed when you call regions/areas across the world.  Ultimately, the cost of international calls are significantly reduced when using a VoIP system.
Top-of-the-line features are available with Business VoIP
Any sized business can now access features that would normally only be utilised by larger businesses on traditional phone systems.
Customers will benefit from a number of professional features when they make or receive a call from a VoIP phone system. The most commonly used features include hunt groups, call routing, call logging, call screening, conference calling, call forwarding, caller identification, call recording, hold music/messaging, voicemail, and even social media/mobile phone integration.
Provides You With Flexibility
When you are out of the office, you can receive calls on the go. Business VoIP provides call forwarding as a standard feature. Through this option, you will be able to forward your calls to any other number, or receive them while on the go, without additional charge, and all at your own control.  In addition, your business phone can be set up to automatically transfer calls to voicemail based on the opening hours setting.
Opportunity To Be Larger
The operations of a small business can be difficult with limited resources. Many small businesses use VoIP phone systems to ensure they never miss a call when they are out visiting prospects, completing jobs or away from the office.
Companies with a small team like the impression of being bigger, or local, but most businesses tell us the perception that they have a more professional business gives them a competitive advantage. And the ability to unlock a host of clever features with no additional charge, only helps them gain efficiencies, and monitor performance. Perfect if you have a 3 ring policy, or want to measure call volumes.
How Does A VoIP Phone System Work?
VoIP phones make use of IP technology to transmit calls. These devices can be either hardware or computer programs run on a computer or mobile device that perform the same functions. By using the microphone and receiver of a VoIP phone, you can transmit sound over the network, which is then converted into data packets sent over the internet. When the phone is used, it decompresses the data and finds the other person and plays it back.
Traditional business phones are connected via a wire to an on-premise private branch exchange that connects all internal extensions through a bulky piece of equipment called a private branch exchange (PBX). The PBX essentially serves as the brain of the setup, as it is the system that manages all routing and ensures that every call reaches its destination via a public switched telephone network.
Telephone networks consist only of specific phone networks, which are typically used for landlines. PSTN stands for the public switched telephone network. Another service you might have heard of is telephone service. Both acronyms mean the same thing.
Unlike traditional PBX systems, IP phone systems don't require you to maintain VoIP and IP PBX hardware within your office space. It is usually hosted, so you don't need to worry about maintaining a server inside your building, but it will have everything you need in a proper enterprise-level phone system.
The reason is that cloud-based VoIP phone systems bypass the limitations of traditional telephony, allowing computers and other devices to place phone calls via the internet. Those protocols ensure that data packets arrive at their destinations by establishing connections and ensuring packets are delivered on time.
Want to know more about VoIP or understand how it will benefit your business?  Complete our two minutes to complete our health check tool and one of our experts will be happy to offer you a free, no obligation tariff analysis, so you can be sure you are getting the right deal for your business.