Understanding VoIP PHONE SYSTEMS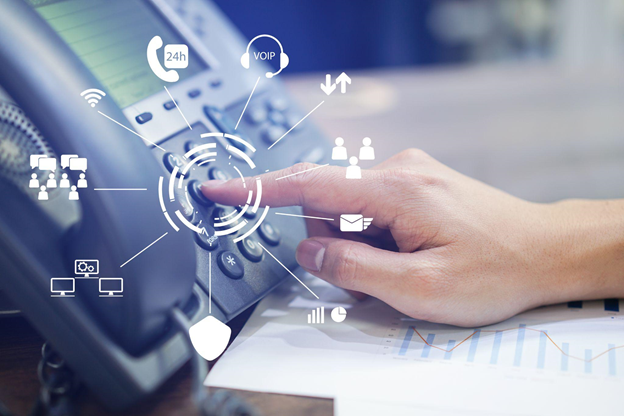 Although working from home has been a privilege for a few employees over the years, the impact of Corona, and how businesses were forced to respond to lockdowns, means that working from the office is no longer the norm – with work-from-home, remote working and hybrid office set-ups, now becoming the first option. 
But how can a business thrive without traditional communication methods we're all used to? Many businesses, big and small, have turned to VoIP systems to enable a mix of office, remote and work from home setup.
What is that?  
VoIP stands for Voice over Internet Protocol – often called IP telephony. Compared to traditional public switched telephone networks (PSTN), VoIP telephony although it might sound complicated, is simple to install, easy to operate and offers several advantages over traditional telephone systems.
So how does it work? 
Keep reading to find out! 
Are you looking for VoIP Berkshire systems? Speak to us at DRC for more information about making your communication efficient! 
VoIP Systems: What are they? 
VoIP phone systems are a means of transmitting voice calls over IP networks. Internet-based voice calls are made possible through the use of Voice over IP and a web server rather than a local telephone service. So, rather than making a call from a landline, VoIP makes use of an internet connection. 
In recent years, technological advancements have made it the standard means of communication for businesses seeking reliable and future-proof communication. VoIP has evolved into a reliable, modern technology and is usually cheaper to run than traditional telephone systems too.  With VoIP, many businesses enjoy hassle-free and inexpensive telecommunications. 
By adopting this type of telecommunications system, a business can reduce or eliminate numerous business communication costs. Companies don't need to pay for many phone lines or hardware, and call charges are usually much lower.
How do VoIP systems work? 
Your voice is converted into a digital signal, compressed, and sent over the Internet via Voice over IP, with your VoIP provider then uncompressing the calls and connecting all participants at the end. The digital data is then played back over your phone or speakerphone.
VoIP enables users to avoid long-distance charges by making calls without using any telephone service. So if you're working with a VoIP system, you don't need to run additional copper wires.  Many VoIP systems even enable users to make calls via applications on laptops, PC's or tablets – so using this service, employees can truly work remotely from anywhere.
If you want to call someone using VoIP, you need an IP-assigned desk phone or app. If the phone is SIP-compatible, the call is placed from your network and, unlike landlines, they are capable of making high-definition (HD) phone calls.
Why should your business use VoIP? 
In terms of business applications, VoIP is a cost-effective and reliable way to provide telephony for employees. Due to VoIP's flexibility, and Software as a Service (SaaS) approach, the professional calling features on VoIP systems far outpace traditional phone services.  With hundreds of features, benefits and add-on services there is practically nothing that a VoIP system can not do to help businesses run efficiently.
Both cost-effective and convenient, employees and the company alike will benefit from this investment. 
How it works with mobile devices and Wi-Fi connectivity
In light of the explosive growth of mobile devices, unified communication has become a necessity. 
Fueled further by the work-from-home set-ups and employees no longer being confined to their desks, a smooth-flowing communication process is essential for a successful business. With a VoIP app on smartphones/tablets/laptops, remote employees; thoses who work from home; and even those who are always on the road, can make and take business calls as if they were at their desk
In addition, Ethernet might not be a practical option in some offices but improved speeds for Wi-Fi makes Wi-Fi calling possible. Even though a CAT 5e or CAT 6 connection is ideal, employees can still take calls wirelessly throughout the office with a strong Wi-Fi signal.
Can existing phones function with VoIP? 
With an Analog Telephone Adapter (ATA), existing traditional telephone systems/phones can be retrofitted with more features and capabilities to make them VoIP-ready. Although it is possible,it may be more desirable to use a SIP phone instead of a standard telephone, since it is natively capable of working with the large features of a VoIP service.
Additional benefits from using VoIP
Calls to all destinations, including landlines, mobiles, and overseas, are charged at highly competitive rates. Businesses with several locations will usually benefit from free phone-to-phone calls between internal VoIP extensions and many providers offer bundles of minutes to be used across the entire business.
There are loads of flexible options with VoIP systems – here are the most commonly used by our clients:
The system allows you to add as many phones as you need very quickly, so you can scale as your business grows
Hunt groups can be set up to route calls across individuals, teams and departments to ensure that your calls are alway answered
You can direct a phone number or call to another location in the company so each location can act as a backup for calls to the other – regardless of where they are based in the country
If you need to leave the office during a call, you can transfer that call from your desk phone to your mobile without needing to hang up
You can forward your office number to your mobile if you work from home
Set Your Workforce Free
It's easy to see why the UK telecoms market has been moving away from clunky outdated on-premise phone solutions. 
Hosted telephony, or VoIP, is an easy-to-use, easy-to-configure option that stops your workforce from being tied to a desk. Calls are made via the internet rather than over traditional phone lines, so all you need is reliable connectivity to make and receive high-quality calls. 
As the trend for workforces moves towards being mobile and agile, colleagues can choose between a traditional handset, PC soft client or mobile soft client, really personalising the experience depending on roles and preferences.
From a simple set-up with a couple of licences to a sophisticated call centre solution, we can offer the optimum set-up for your business and we work with best-in-breed suppliers to harness the most powerful solution for your business. 
Our solutions are scalable and future-proof meaning you can relax, knowing that your team is working on the most up-to-date version that integrates seamlessly with the rest of your business.
Get VoIP systems today with DRC – VoIP company
DRC offers seamless voice and data solutions for your business. 
At DRC, we're here to work with you as an extension of your business, creating and managing your ideal communications package. Our number one priority is keeping you connected, so there will always be a member of our team available to respond to your calls, which in turn enables your customers to speak to you with our cutting-edge and reliable solutions.
Contact us today for more information about how your business can be equipped with the best VoIP communications with an excellent VoIP company.