How to make the right choice when it comes to business mobile handsets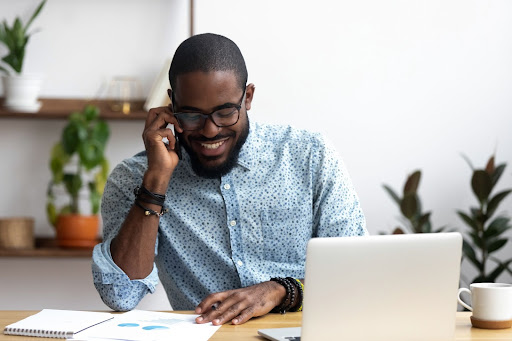 When you have a team of sales personnel or account managers it would benefit you as the employer and the employee to have dedicated phones for each person. Mobile handsets for business are important so that your employees keep their personal phones for themselves and you protect your valuable business data.  DRC will work with you to create bespoke plans, tailored to your individual needs.
Which Handsets Are Right for Your Employees?
Today's smartphones are capable of so much more than simply making and receiving calls – which is good news for business customers. By choosing a business mobile device that matches your operational needs, you can ensure that your employees have all the resources they need. When selecting handsets for your team members, be sure to consider the following:
Working Environment
Where your employees work and the type of tasks they undertake will have a big impact on the suitability of particular handsets. Office workers may prefer the latest slimline models, for example, while construction workers or field engineers may benefit from ruggedised handsets designed for outdoor conditions. 
App Availability
When deciding which mobile handsets to use, remember to check that your preferred apps are available. While most apps are designed for the two major mobile operating systems (Android and iOS), this isn't always the case. By confirming that your most-used apps will be accessible and functional on a new device, you can ensure that staff will have access to the platforms they need.
Mobile Working
The enhanced functionality of the latest smartphones means that employees can often conduct a variety of tasks using just their phone. However, choosing a handset that lends itself to mobile working will improve the user experience (UX) and empower staff to maximise their productivity. Larger screens and devices can be useful for employees who are working on the go, for example. 
Range of Features
When you're choosing a new mobile phone for business or personal use, it's tempting to go for the latest mobile and take advantage of the biggest range of features. In reality, this might mean that you end up with a device that is packed with features you never use. Consider which features are most important to your business and select a handset accordingly, rather than the other way around. 
Battery Life
If you want your employees to be contactable during working hours, it's important to issue them with handsets that have a good battery life. All manufacturers publish this information, so it's easy to find out which devices offer above-average performance and require minimal charging. While portable power packs, in-car charging, and wireless charging can enable staff to recharge quickly, choosing a handset with a decent battery life will certainly make life easier. 
SIM Free Handsets vs Pay Monthly: What's the Difference?
Once you know which handsets you want to roll out, you'll need to decide whether to purchase SIM free devices or enter into a pay monthly contract. Major telephone companies in the UK tend to offer both SIM free mobile phones and monthly contracts, so there are a wide variety of options to consider. 
SIM Free Handsets
Purchasing a SIM free device means you're buying the handset outright, but it won't be connected to a network. Depending on where you purchase the handset from, you can ensure that the device isn't restricted to a particular network, which gives you free rein when it comes to selecting the network you want your teams to use. 
If you do opt for SIM free mobile phones, you'll need to take out a SIM only contract too. Typically, these are much cheaper than phone and SIM monthly contracts, as you aren't paying for the handset via these monthly payments. With the best mobile SIM only deals, you can reduce your monthly overheads and still provide users with sufficient data and usage allowances.
You'll find that SIM only monthly contracts tend to be more flexible than phone and SIM contracts too, which can be advantageous if you need to issue devices to temporary or seasonal workers. With rolling contracts and minimum contract terms of just 30 days, for example, monthly contract SIM options can be a highly flexible solution.
However, purchasing SIM free mobile phones outright can be costly, so you'll need to consider whether you're prepared to invest in your tech in this way. Of course, you retain ownership of these devices, which means employees can continue to use them for as long as they're needed or until they require an upgrade for operational reasons.  
Pay Monthly Bundles
Traditional pay monthly bundles incorporate a handset and SIM card, which means that you'll pay for the device over a longer period of time. 
Although pay monthly phone and SIM bundles tend to cost more per month, they don't require a substantial upfront investment and, over the long term, they can even work out to be cheaper than purchasing a device outright. 
At the end of the contract, you'll be free to switch to a SIM only plan and continue using the device, so you can maximise the lifespan of the handset and reduce your expenditure in accordance with your needs. 
Find the Best Mobile Solutions with DRC
There is lots to consider when it comes to finding the best mobile solutions, but our experienced advisers can provide the help and assistance you need. With our custom tariff analysis tools, for example, we can use your current and predicted usage to determine which mobile phone plans are best for your business. We use a tool called the 'Health Check' to audit your existing system and use this information to suggest ways to streamline and improve your business connectivity. 
What's more – our long-standing relationship with telephone companies in the UK enables us to access the best deals out there and pass these savings on to our clients. Whether you're equipping a small number of employees with mobile handsets or issuing mobile phones to tens or hundreds of workers, we'll find the best handsets and SIM deals for you. 
To learn more, contact DRC Ltd. now on 01256 895895 or email us at [email protected]