Customer Satisfaction: What 2022 Has Taught Us About How to Keep Your Customers Happy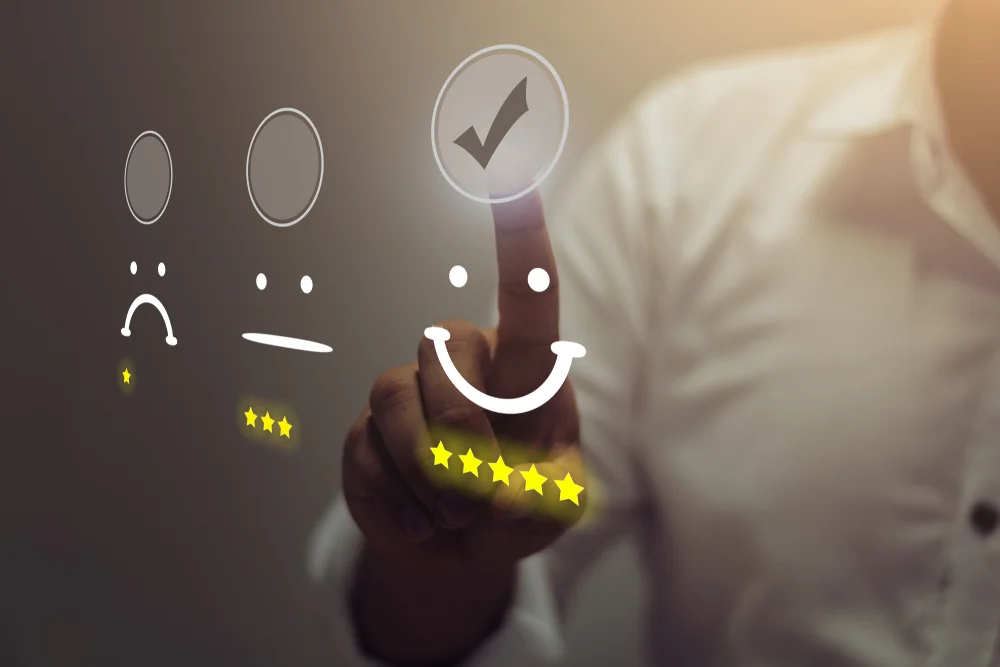 It's been a very busy year for the business communications sector. Here are five things we learned about customer satisfaction, which will help you keep your customers happy in future:
1. Prioritise Customer Service
Customer service should be a top priority for every company, regardless of what industry or sector you operate in or whether you're a B2C or B2B organisation. A recent survey conducted by HubSpot Research confirmed that a staggering 93% of customers make repeat purchases with companies that offer great customer service and increasing your customer retention rate by just 5% can increase your profits by 25-95% (Bain & Company). 
So, if you want to keep your customers happy and reap the rewards, make customer service a top priority and ensure you're continually optimising your customer care strategy to outperform your competitors. 
2. Accelerate Response Times
When it comes to delivering great customer service and making sure customers are satisfied, speed really is a key metric. In fact, 90% of customers say an "immediate" response is essential or very important when they have a customer service query (HubSpot Research) and 64% of customers want to shop with companies that can meet their needs in real-time (Salesforce). 
Using a VoIP phone system as the lynchpin of your company communications can be a highly effective way to accelerate response times and boost your customer service. With a business VoIP phone, you can ensure that you are available to respond to incoming calls at any time, while VoIP extras, like call routing, call queuing and live wallboards, make it easy to monitor and optimise in-house performance. 
3. Omnichannel is Essential
Today's customers expect company interactions to provide a consistent user journey across a variety of mediums, which means you need a successful omnichannel customer service strategy to keep your customers satisfied. A whopping 75% of customers desire a consistent experience, regardless of how they engage a company (Salesforce), so be sure to utilise a wide range of tools when engaging with your target audience and customer base. 
However, it is important to remember that 'omnichannel' doesn't just mean using more than one channel. Instead, a true omnichannel experience enables a seamless transition from one medium to another and enables customers to interact with your organisation easily. 
When you connect with users via live chat and can pick up where you left off the next time the customer contacts you via phone or email, for example, this equates to a positive omnichannel experience. 
Fortunately, creating a truly omnichannel service strategy is easier than it sounds. Our omnichannel customer experience solutions give you the flexibility and functionality you need to centralise customer interactions across mediums, including voice, email and social media, unifies interaction timelines and integrates with a variety of platforms, such as CRMs, eCommerce stores, marketing tools and accounting software. 
4. Calls Remain #1 for Customer Satisfaction
In an increasingly online world, it can be tempting to focus on web-based solutions, like live chat, when you're optimising your customer care strategy. While it is important to integrate web-based tools into a successful customer service strategy, don't overlook the importance of reliable and efficient call handling too. 
The phone is still the most-used channel for customer service, with more than 50% of customers across all age groups are more likely to use the phone to engage with a service team (Zendesk) and more than 76% of all consumers prefer phone calls when they need to reach customer support representatives (CFI Group).
If you want to keep your customers happy and increase satisfaction rates, be sure to provide customer service options that match the needs and wants of your customer base. With the majority of people still preferring phone calls to any other communications medium, upgrading to a business VoIP system could have a transformative effect on your customer care and enable you to elevate interactions whenever a customer contacts your business. 
5. Prepare for the Unexpected
Business operations can be impacted by a wide range of issues, some internal and others external. If your internet connection is disrupted, for example, staff may be unable to proceed with specified tasks, while access to your website could be limited if your servers suffer unexpected downtime. 
Identifying potential issues and upgrading your systems to mitigate the threat is a critical way of increasing resilience and ensuring customer satisfaction remains high at all times. Similarly, creating a custom disaster recovery plan for a company ensures that you have workable contingency plans that can be deployed if and when issues arise.
By preparing for the unexpected, you can maintain your operations, keep your business up and running and continue to deliver outstanding customer care, regardless of potential disruptions or threats.
Increasing Customer Satisfaction with VoIP Phone Systems
As customers place such a high value on customer service, improving your current customer care strategy and communications functionality is a sure-fire way to keep your customer base happy. The benefits of VoIP phone systems include reduced costs, enhanced resilience, increased flexibility, and multiple integration options, which is why it's so easy to create a versatile omnichannel experience when you use VoIP as the basis for your communications.
Of course, choosing the right provider will ensure you get the best broadband deals and the most cost-effective setup to suit your needs, while selecting the right system extras, such as auto attendants and CRM integrations, will help to create a bespoke customer service portal that enables you to deliver enhanced customer care.
Whether you're looking for something specific, such as intelligent live chat, 360° customer view, process automation or a Vodafone upgrade, or you simply want to learn more about enhancing customer satisfaction with a business VoIP system, our team is here to help.
Contact DRC now on 01256 895895 or email us at [email protected] to find out how our omnichannel VoIP customer experience solutions can elevate your company's customer service, maximise customer satisfaction, and increase customer retention rates.